We are excited this year to have Riley Lewis as our Tennis Instructor. Riley is passionate about the game of tennis and played both in Junior High and High School. He played varsity for 4 years, where he went on to win several regional championships. He also went on to compete as a doubles player at state tournament three times!
---
*All players are required to provide their own tennis racquets.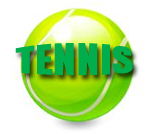 Registration for 2021 Tennis season will begin March 22nd.


Tennis Flyer 2021
Teen Tennis Flyer 2021
*6th Graders can choose where they would like to register based on experience and skill level.